Progressive Society Conference
Change the European Economic Model, for the many
European Parliament (Brussels), 5th September 2018
---
Nowadays inequalities affect all of us: social, economic, regional and environmental inequalities involve almost every facet of the everyday life of EU citizens. Many are the challenges in the fields of social inclusion, innovation, education social housing and renewable energy infrastructure. In order to ensure a more equal, sustainable and progressive society, Europe needs to change its economic model.
On the 5th September 2018 EUAbout participated in the Progressive Society Conference organized by the Group of the Progressive Alliance of Socialists & Democrats in the European Parliament. The conference gathered many opinions and contributions of experts and policy analysts about the different dimensions of the transformation that Europe needs to undertake in order to ensure a more progressive society.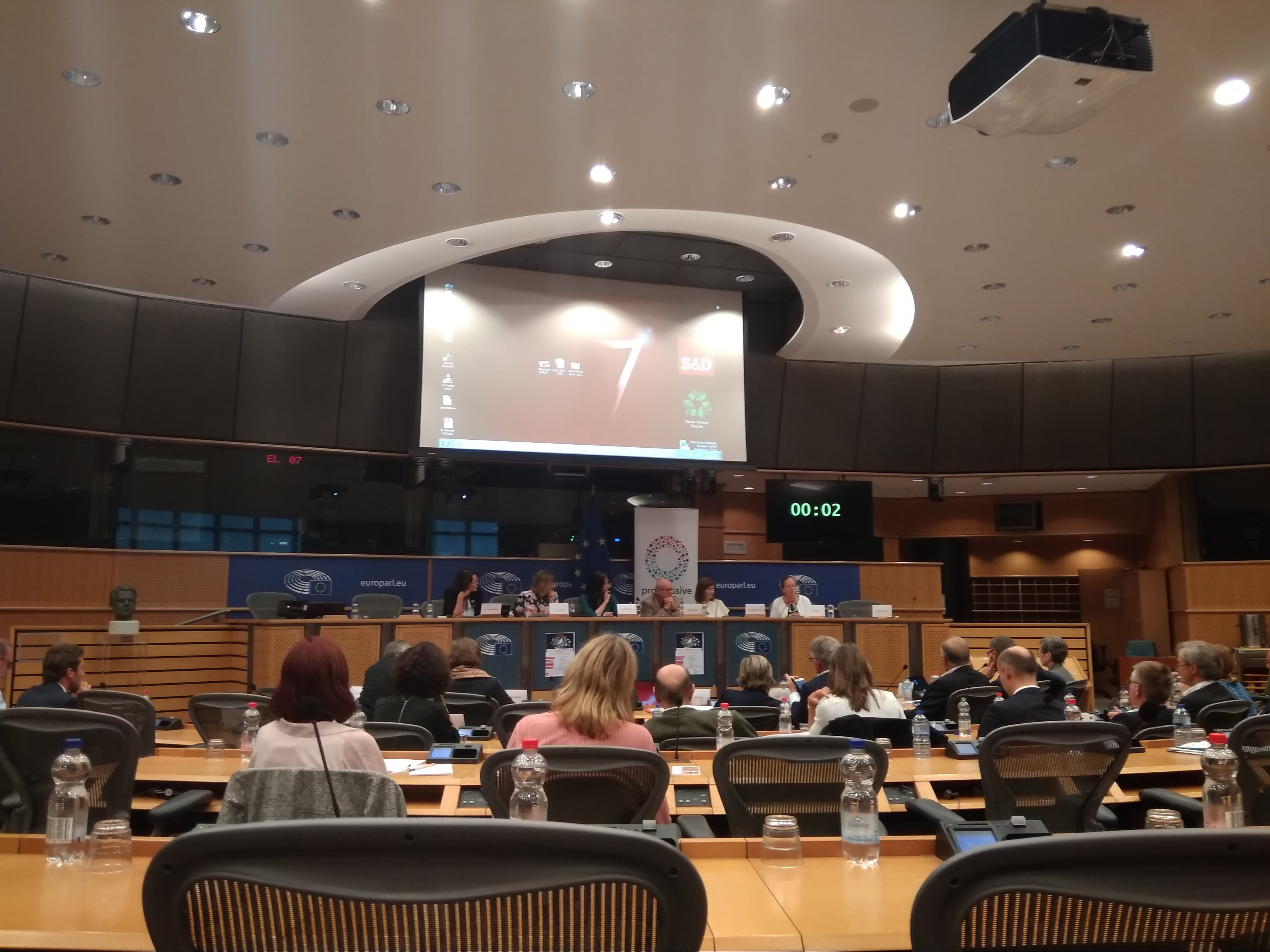 he need for another economic model
The main topic of the conference was the need for a shift from the growth paradigm to a sustainable development paradigm. Sustainability, radical change and innovation are the key-words we must incorporate in our methodology in order for our society to be truly transformational, as Cristina Gallach (High Commissioner for Agenda 2030 at the Spanish Government) said in her speech.
Pervenche Berès, S&D Group Member and ECON Coordinator, underlined that EU policies require e re-think in order to fully integrate all sustainable development dimensions. According to him, EU fiscal policies do have critical effects: the Stability and Growth Path did not allow long-term investment strategies, the achievement of SDGs and the fight against inequality. He pointed out that we need to properly choose our tools to implement the goals we have and that we must create strong rules to fight inequality.
According to Peter Schmidt, President of the Sustainable Development Observatory EESC, the wrongness of our economic model depends on the definition of competitiveness, that has become just a race to the bottom, exploiting the environment and the people. Furthermore, he said that we cannot say that EU is a leader in pursuing SDGs since we have already eaten our resources available for this year in April in some of our Member States. Thus, EU sectoral policies need a re-think in order to ensure equal access and opportunities to all Europeans.
Monitor deliver, not progress or trends
Marianne Kettunen, Principal Policy Analyst and Lead of Global Challenges and SDGs, sustained in her speech that EU SDGs monitoring framework requires further development. Currently, no policy goals have been set in order to assess the success of EU actions. We need to define targets and to monitor the distance of our results to our goals, and not just progresses and trends.
The cultural dimension and the involvement of citizens
New technologies and a good governance are certainly necessary in order to achieve our goals, but Kathleen Van Brempt, S&D Group Vice President, underlined also the need for another dimension: the cultural one. A problem brought out by Giulio Lo Iacono, Responsible Relations with Stakeholders at the ASviS, was in fact the lack of awareness in the people. Proper strategies of communication are necessary in order to make ordinary people understand what sustainable development means. Therefore, we must translate SDGs in real life, involving citizens through dialogue and the sharing of ideas. Otherwise, people will not support EU actions.
In conclusion, the shift towards a new economic model, social development, the definitions of targets and the raising of people consciousness must be key objectives throughout Europe, but we should also question ourselves about the implications of the implementation of SDGs in Europe and of the EU circular economy on developing countries, an interesting issue that was raised in the conference by Marianne Kettunen.